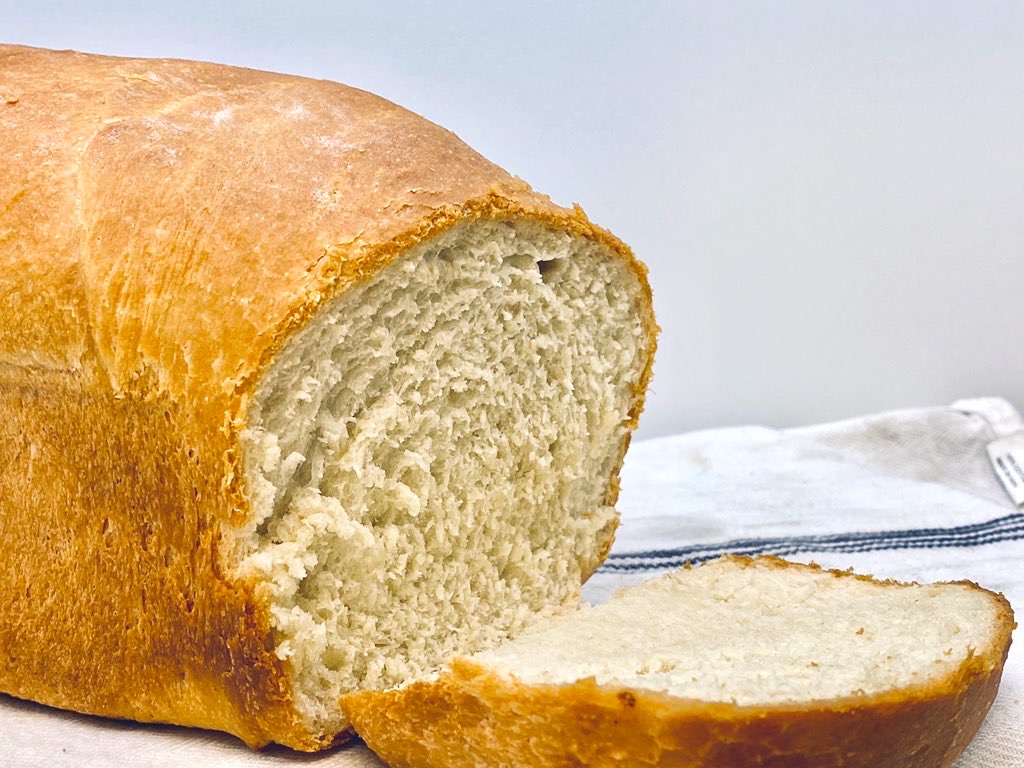 Ingredients
4½ 

teaspoons active dry yeast

¾ 

cup + 2⅔ cups warm water (keep separate)

¼ 

cup sugar

1 

tablespoon salt

3 

tablespoons unsalted, room temperature butter (cube for easier mixing)

9 to 10 

cups all-purpose flour

3 

tablespoons unsalted butter (cold block for rubbing by hand or melted if brushing).
Instructions
In a stand mixer, stir to dissolve yeast in ¾ cup of warm water. Let rest for 5 minutes. Once the yeast has bubbled and proofed, add 2⅔ cups water, sugar, salt, softened, room tempture butter, and 5 cups of flour.
Use a dough hook and mix on low speed. Gradually add the remaining flour until the dough is soft and tacky, but not too sticky (you may not need to use all of the flour). Continue to mix until a ball of dough forms and clears the sides of the bowl.  Should take about 7 to 10 minutes.
Put dough in a lightly greased bowl and turn so it is coated on all sides. Cover with plastic wrap and set in a draft-free place to rise until doubled in size. Should take 1 hour to 1½ hours  to double in size. I often preheat my oven to 170º and turn off and leave cracked to help dough rise and avoid drafts. 
Turn the dough out onto a clean, lightly floured surface. Gently press it all over to remove air pockets. Do not knead. Divide/cut the dough in two and pat each halve into a 9×12-inch rectangle. Roll up the rectangle of dough, starting on one of the short ends, into a very tight cylinder. Pinch and seal the seams and the ends, tuck the ends of the roll until the bread, and place into greased 9-inch loaf pans. Loosely cover the panned loaves and place in a draft-free area until doubled in size, 30 to 45 minutes.
Adjust an oven rack to one of the lower positions. Preheat the oven to 400º F.
Melt some butter and brush the tops of each loaf. Bake for 30 to 35 minutes. It helps to rotate halfway through baking to promote an even golden brown.
Remove from oven and brush or rub loaves with butter. 2 cold tablespoons of stick butter works great for rubbing the loaves by hand.
Cool for 10 minutes and remove from the pans.
Store in an airtight bread bag or wrapped tightly in plastic wrap. Stays well at room temperature for up to 5 days. Should last in a freezer for a month.