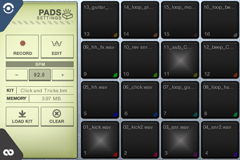 Bedroom DJs and electronic producers are sure to love BeatMaker. The app truly shows the potential for touch the iPhone and iPod Touch.
BeatMaker includes step sequencing, pads, an audio synch, and many save features. Basically, you can create any flavor of music using the electronic pads, samples, and more, save it, export it, and rock it.
Obviously, a MacBook Pro would be a better solution for your mobile music needs, but do you really need to drag out a notebook for a quick production fix or to arrange a burst of inspiration? That's where BeatMaker comes in!
Check out this video by hop hop producer Tha Bizness to see BeatMaker in action.
 
Imagine an iPhone jam session? I'm on it!
Site: BeatMaker @ iTMS